Beautiful posters are easy with BrandCrowd
Create a stunning poster in minutes with our free design tool. Our poster maker lets you create a completely customised poster in just a few clicks. It so easy!
Search poster templates
Quickly search or browse our popular categories to find the perfect poster.
Customize your poster design
Our poster templates are 100% customizable. Change the colors, fonts and layout.
Download your poster
Download your poster instantly and start sharing it with the world!
Create your poster design in minutes!
Why use BrandCrowd to create your poster design?
Unique poster templates

Unlike other design tools that use stock images and icons, our posters have all been handcrafted by professional designers. Get a stunning design - always!

Free to try

Our poster design maker is free to try. Browse thousands of different designs, edit and save as many as you like.

It's fast - create a design in 2 minutes

It's fast - Pick a design you like and start editing. In minutes create a poster you love & download instantly.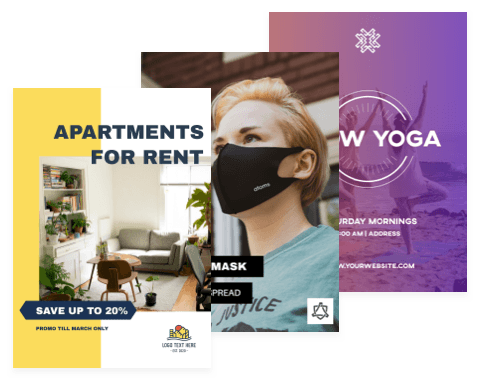 Generate Poster designs for any industry
Choose an industry or keyword below and we'll start creating Posters in seconds...